Allen King, Dario Beck, Massimo Piano,...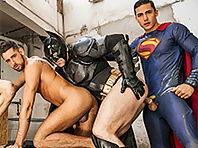 06:00
8519 Views
December 14, 2016
Paddy O'Brian and Trenton Ducati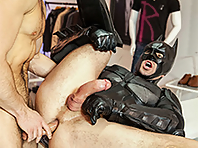 06:00
9110 Views
December 9, 2016
Damien Crosse and Topher Di Maggio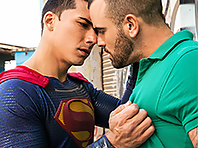 06:00
7852 Views
December 9, 2016
The 'Batman v Superman' hardcore gay series has been filmed by Men and released by Super Gay Hero. Ten sites make up the network, and they are: Big Dicks At School, Drill My Hole, Gods Of Men, Jizz orgy, Men Behind The Scenes, Men Of UK, Str8 To Gay, The gay Office, Top To Bottom and Super Gay Hero.
Super Gay Hero has 60 hardcore movies on their site at the moment, but because Men updates their network on a daily basis, you get to see more and more hot fantasies. Talking of fantasies, Super Gay Hero has a hot and unique site where you can watch your comic book heroes, and science fiction stories in hardcore action. There are many different parodies here such as: Tarzan, X-Men, Captain America, Star Trek and Ex-Machine.
In the Batman v Superman, you will see hot and horny porn stars all over each other like: Topher Di Maggio, who plays Superman, and Damien Crosse, in Part 1, Paddy O'Brian and Trenton Ducati (Batman) in part 2. And in Part 3, there is a fantastic cum shooting orgy starring: Allen King, Dario Beck, Massimo Piano, Topher Di Maggio and Trenton Ducati.
The series In part 1 of this fantastic caped fantasy, Clark Kent (Superman) is at a party. He is introduced to the host Bruce Wayne (Trenton Ducati) who is really Batman and they speak about Batman and Superman. Trenton can't believe that Clark is totally against Batman, and wants him out of the city. Topher (Superman and Clark) tells him that Batman is a nuisance without any super powers and that he just gets in the way. Topher makes his excuses and leaves.
In the next scene, Damien Crosse is being attacked by two thugs down an alleyway. He is very scared until Topher flies in dressed as Superman, and soon gets rid of the thugs. As Topher goes to thank him, Topher kisses him on the lips. They suck cock outside in a public area, and then Damien gets to feel that super cock deep in his ass, and tastes his cum.
In Part 2 Paddy O'Brian is in his shop when two criminals come in to steal everything, and as they hold a gun to his head, Batman comes in and saves the day. As he goes to leave though, Paddy stops him from leaving. He tells Batman, that this is the second time he has been saved like this. The first time was with Superman. Batman, played by Trenton, asks what happened with Superman when he helped, but Paddy tells him that he will not tell. Instead, he leans forward and kisses him on the lips.
Trenton, who keeps the top half of his rubber costume on all the time, gets down as he sucks on Paddy's hard cock. Paddy, sucks on his cock for a while, and then flips Trenton over as he licks out his delicious ass. Paddy then fucks his ass, and as he fucks him, Trenton (Batman) cums all over his rubbers as Paddy shoots his all over Batman's ravished hole, and his now empty balls.
In the third and las part of that series, Batman and Superman fly in to save Allen King, Dario Beck and Massimo Piano, who are being Kept captive half naked in cages by an evil criminal. They soon have him in custody and release the lean horny men, and Trenton Ducati (Batman) rubs his hands over Topher Di Maggio's 'Superman's) chest and cock. Trenton gets down as he gets out Topher's cock and begins sucking on it. Allen, Dario and Massimo soon get stuck into the action as they all suck on each other's hard cocks, with Trenton and Topher in the middle of the action. This movie is full of cock sucking and ass licking as everyone gets hot and horny, Topher Di Maggio, still in full costume, bends Trenton Ducati, over a wooden pallet with his firm ass on show, but his top half still covered in his rubber outfit, and rams his cock into his ass.
Allen King, Darion Beck and Massimo Piano, who have all been fucked stroke their cocks until they cum. As Superman finishes fucking Batman's ass, they both shoot there hot creamy cum, and The Batman, then gets to taste that super jizz from Topher's still hard cock.
This is a fantastic series full of cosplay, cock sucking, ass eating, and lots of fresh cum, and a couple of cages with hunky men inside. What more could you possibly want. I have been fantasizing about all this since I was a child, so it's great to see it all being played out in front of my eyes.